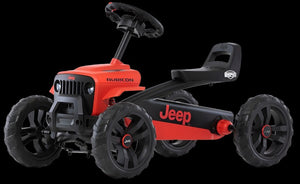 Let your child dream, do and discover in a real Jeep! The Jeep Buzzy Rubicon is a true off-road sensation. The off-road tyres, round steering wheel with spinner knob, and cool hood with grill and angry-looking eyes make this a real Jeep Rubicon.

The 4 EVA tyres ensure this robust Jeep Buzzy is firmly grounded The good connection between the front and rear axles makes pedalling easy, even for little ones. This Jeep is suitable for children from the age of 2.


•

Official Jeep design

•

Every child learns to pedal super easily due to the direct transmission and unique ergonomics.

•

Always control over the steering wheel and the pedals, because they can be operated independently.

•

Silent EVA whisper tyres that will never go flat.

•

The four wheels and swing axle keep you firmly and safely on the ground.

•

Super supple and light pedalling due to ball bearings and unique ergonomics.

•

Grows with you due to the adjustable steering wheel and saddle.

•

Can be driven forwards and backwards.