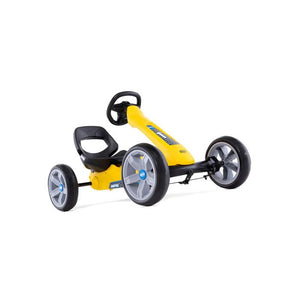 Attractive, light and
compact design
With the design, low bucket seat and the striking sports steering wheel, children stand out in the neighborhood.The Reppy is light and compact, and easy to store after playing.
Seat is adaptable to

 

your body length

The bucket seat of the Reppy is easy to adjust by turning a knob. No tools are needed. The Reppy is made for children from 2.5 to 6 years.
EVA tires offer comfortable

 

& smooth driving

An EVA tire is made of high-tech foam. This makes it just as durable as the traditional rubber tire. Flat tires are definitely a thing of the past.
Easy to ride,
easy to master
By a fixed connection between the front crankshaft and the rear axle, the movement of the legs is directly converted into action. Both forward and backward.