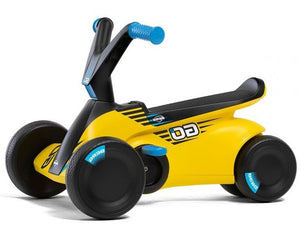 Ride

 

& Pedal:

With the BERG GO², you can teach your child in a playful way to step and pedal! Your child can begin sitting on the GO² with the pedals folded up. The next step is to simply fold the pedals out. With the feet on these pedals, your child can then practise learning how to pedal.
Stable

 

and safe

The four wheels give the BERG GO² excellent stability. This makes the GO² extra safe for the smallest kids. With one less wheel, three-wheelers are a very unstable construction that tips over easily. Turning a sharp corner on a three-wheeler makes for a dangerous situation.
Long-lasting
playing enjoyment
The ergonomic design provides safe playing enjoyment. The textured saddle lets your child sit further back without sliding off! So the BERG GO² grows together with your child.