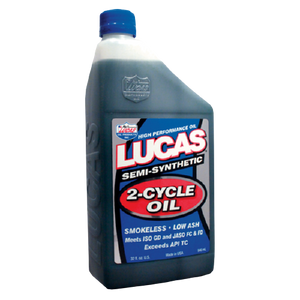 Lucas Semi Synthetic 2 Stroke Oil
Lucas High Performance Semi-Synthetic 2-Cycle Oil has been specifically developed to give a long trouble-free life to gasoline-powered 2-cycle engines. Designed for any oil injection system or pre-mix up to 50:1. Use in Snowmobiles, Weed Eaters, Leaf Blowers, Chain Saws and more.
Lucas High Performance Semi-Synthetic 2-Cycle Racing Oil uses an advanced "Smokeless" formula specially blended from mineral oil, synthetic oil and a low ash additive package containing fortified dispersal inhibitors. It also contains exclusive detergents and lubricants. The end result of this advanced technology is a more thorough burning of the fuel resulting in more power and fewer emissions.
Lucas ash-less detergent inhibitor package minimises spark plug fouling, pre-ignition, ring sticking and combustion chamber deposits. The user can expect cleaner exhaust ports and spark plugs, less carbon buildup on the piston rings, skirts, crown and under crown areas. For more specific information on each racing oil please review our product specification sheets.
KEY BENEFITS
Clean burning "Smokeless"
Mixes well with petrol at all temperatures
Meets requirements for "low smoke" oils
Low Ash
Suitable for use in air-cooled engines
Surpasses Mercury, Evinrude and Johnson Motors requirements
Expect longer ring life, less fuel consumption and no filter clogging
Excellent rust protection during storage
Prevents carbon deposits
Prevents piston burning and corrosion caused by combustion residue
Meets ISO GD and JASO FD
Exceeds API TC