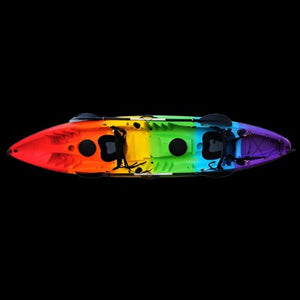 2+1 Seater Tandem Kayak
Two full sizeand one small seating areas.
Hull Material: LDPE
Size: 3718x888x451mm
Weight: 32kgs
Capacity: 350kgs
Includes 2 x seat, paddle, buoyancy aid, and 30-L dry bag. 2 carry handles with paddle holder cord, 1 drain plug, 8 rubber stoppers, 1 black bungee, 2 8-inch hatch cover & 4 flush rod holders with caps.